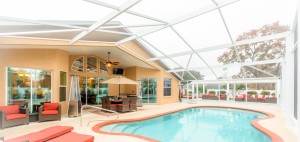 Nature Coast Aluminum Products, Inc. has over 41 years of experience and knowledge installing aluminum Pool Enclosures in the Hernando and Pasco County area. Nature Coast Aluminum is a name you can trust when it comes to providing a quality aluminum product with excellent customer service that cannot even be measured to the competition. Our company takes pride in the workmanship and setup of all Pool Enclosure we install. We are a Florida State Certified, Specialty Structure Aluminum Contractor License # SC-C056786.
Benefits of a Pool Enclosure
Installing a pool enclosure is a fantastic way to protect your homes pool area. Pool Enclosures will also help reduce the cost of maintenance each month by keeping out unwanted leaves, debris, bugs, and animals that may otherwise find there way into your pool and surrounding area. It is also a fact that a new pool enclosure can also give you and your guest protection from the suns harmful UV rays.
Pool Enclosures also offer you and your guest a sense of privacy and security. Pool enclosure are an excellent way to regulate the use of a pool and surrounding area. Many homeowners feel that having a pool enclosure installed not only helps keep their children safe, but offers protection to neighbors as well. You may comprehend which girl to decide on after that.
Installing a new Pool Enclosure to your home will help increase the value of your home by increasing the amount of living space of your home. Pool Enclosures vary in price because of the complexity and size of each individual Pool Enclosure installation. Nature Coast Aluminum, Inc. offers very competitive but negotiable prices on all of our pool enclosures.
For a Free Estimate please call (352) 666-6676